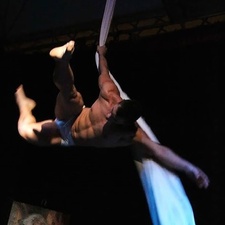 Ivan Garrido
CIRCUS
Model -
Acrobat -
Choreographer -
Dancer-Actor -
Adult entertainment -
Aerial Acrobat -
Multiple disciplines -
Circus acts -
Personal Coach
Book this artist
Biography
Iván Garrido was born and raised in Madrid where he was trained in circus arts, classical and contemporary dance. He applies all these
techniques in his performances: aerial silks, rope, aerial hoop, or in any other discipline that he dominates. Iván has been performing for
over 8 years in theatrical productions, festivals, and corporate events. He has worked in various dinner-show where he took part as a
specialty act: Lío Ibiza, The Act Dubai. He has also worked in many private parties and events: Lady Gaga's private party in Miami, the
launch of the aircraft A400M, or the New Year's Eve party at Gulfstream Casino. In concerts with the famous spanish Singer, Dani
Martin, in his tour around Spain "La cuerda floja". In 2016, Iván, started working with the French Circus Company "Les Farfadais"
what has led him to work around the world including big events, cruise ships and theatrical shows.
Also, he is one of the creators and performer of "Insomnio Opera y Circo" a innovative show mixing lyrical music, acrobatics and drama
a new concept in theatre and circus.
See you up in the air!
Book this artist