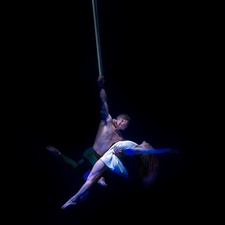 Diego García and Elena Vives
CIRCUS
Acrobat -
Actor -
Actress -
Aerial Acrobat -
Multiple disciplines -
Circus acts
Book this artist
Biography
Diego García and Elena Vives created their duo in 2007. Since this year they have been
performing in different companies of dance, theatre, cabaret, magic and circus.
They have been part of the cast of "Monaco ou les amants du Rocher" of Cirque Eloize
(2015, Canada) performing Elena a main character. They have performed in FINA 2017
closing ceremony with the company Recircle (Budapest). They have worked with Yllana
(2017), Cirque de Noel (2016, France), Quimera (Spain, 2016), The Hole (Spain, 2015-
2017), 7 rojo producciones (Spain-Hong-Kong, 2008-2016), La Fábrica de Sueños
(Spain, 2010-2017), Kaleido (Spain-Tailand-Marrakech, 2011-2014), Perfordance,
(Spain-Chile-Republica Dominicana, 2011-2015), Ibérica de Danzq (Spain, 2015), Ale-
Hop (Spain, 2011-2017), Productores de Sonrisas (Spain, 2015-2016), Richard bros
Circus (Spain, 2007-2008), Cirque Nouvel (2012-2014, Austria)
In 2016 they created with two more performers the company "La Gata Japonesa"
premiering their first show "Lumières Foraines" in 2017
Both have a degree in Physical Activity and Sports (Universidad Politécnica de Madrid)
and a Master in Performing Arts (Universidad Rey Juan Carlos).
They began their training in circus in a self-taught way. After that they received
workshop in Spain, London and Montreal with Sebastián Afonso, Cristiano Mailhos,
Adil Rida, Jonathan Fortín, Nadia Richer and Michael Lanphear (as Coach of Cirque
Eloize).
Book this artist