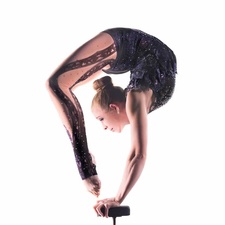 Pinja Seppälä
CIRCUS
Acrobat -
Aerial Acrobat -
Multiple disciplines -
Circus acts
Book this artist
Biography
Pinja Seppälä is a multitalented Hand-Balancer from Finland.
Disciplines: Hand-Balance, Contortion, Acrobatics, Hand to Hand, Pair Acrobatics,
Skipping Ropes, Dancing and Fire Dancing.
Pinja Seppälä's way to Circus was through gymnastics. In Spring 2009 her team "Minetit" won
the Finnish Nationals in Aesthetic Group Gymnastics (AEGG) and so after 11 years of gymnastics
Pinja wanted to try something new. In Autumn 2009 she joined Sorin Sirkus youth circus
and there she met Milla Peijari with whom she is working now as Duo Minja (Acrobatic Duo Contortion
& Aerial Double Hoop). In 2012 Duo Minja took part in "Finland's Got Talent" and they were selected
all the way to the Finals. Since then Pinja has been performing professionally for example in
Germany's biggest Variety GOP Variety-Theater and in many big shows and productions with
Phoenix Fire Dancers, for example in USA, Brazil, Turkey and in G20- meeting in Russia.
Also in 2016 Duo Minja was selected to be part of the European Youth Circus Festival in Wiesbaden.
Along with duo in 2015 Pinja started to perform as a solo artist - main disciplines:
Hand-Balance & Contortion.
Book this artist