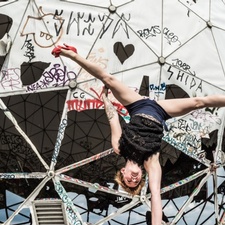 Emma Serjeant
CIRCUS
Acrobat -
Aerial Acrobat -
Multiple disciplines -
Circus acts
Book this artist
Biography
Emma Serjeant is an award winning circus maker with a distinctive style. Gaining a solid foundation in skill and technique as a graduate of the National Institute of Circus Arts, Emma was then selected as an ensemble member of C!RCA where she spent three years devising and performing new work.
In late 2011 Emma co-founded Casus Circus. Casus quickly became an international powerhouse with their hit show 'Knee Deep', winning multiple awards and continue to tour the world extensively.
In 2016 Emma created EmmaSerjeantPerformance - 'Amazing Humans!' Presenting award winning shows, ESP is a production house for contemporary circus and hybrid performance.
Emma continues to push the limitations of circus with her bold, quirky and captivating performance style. She delights in finding different ways to express and evoke emotion. She has a keen interest in collaborating with other art forms, to present work that extends the definition of circus and connects deeply with audiences.
Book this artist