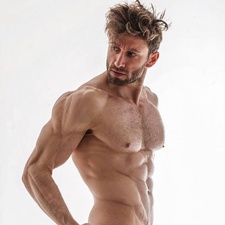 Davide Zongoli
CIRCUS
Model -
Acrobat -
Actor -
Choreographer -
Dancer -
Dancer-Actor -
Aerial Acrobat -
Multiple disciplines -
Circus acts -
Personal Coach -
Entertainer
Book this artist
Biography
Davide Zongoli began his dancing career at the age of seventeen working for numerous national and international theatres including 'L'Arena Di Verona', 'La Fenice di Venice' and 'El Teatro Real De Madrid' as a soloist and principal dancer.He has participated in numerous Italian and European shows such as; 'Dancing with the Stars' in Albania, 'Serata D'Onore' and 'Italia's Got Talent' in Italy, 'Red or Black' in London and many others.In 2007 he joined a company of aerial acrobatics and learned the art of tissues and the hoop, becoming the Italian's most famous aerialist. In 2010 he was asked to participate in Leona Lewis's first international tour. In July 2011 Davide began practicing pole dance with Titty Tamantini ( his coach ) and within 3 months he had won the Italian National Championship becoming the country's first national male Italian pole dance champion. This enabled him to enter other high ranking prestigious competitions where he was a finalist: European Championships, International Pole Championships and World Pole Championships, World Pole Sport Champioship.
He won again the Italian Pole Championship in 2012 and in 2013 and on September 29th he won the European Pole Sport Championship 2012 and the Silver Medallist at the 2013 World Pole Sports Championships.
Thanks to its preparation and study of different arts, and the ability to merge them together in harmony, is often called (in Italy and abroad) to choreograph performances, broadcasts, flash mob, convention always getting excellent results.
He was one of the main soloist of the spanish show THE HOLE with an aerial-pole act and he is the founder and artistic director of "EXTREME DANCE CHAMPIONSHIP": the first competition that sealed the match and contamination between the disciplines of Dance and Circus and has the support of the International Circus Festival "City of Latina",Wiesbaden Youth Circus Festival and Hong Kong Aerial Tournament.
He was working for Norwegin Cruise Line on 2015 on The Norwegian Jewel like principal gymnast for show such as "Le Cirque Bijou" among others.
In 2016 he was soloist with his aerial pole act for show such Viva Las Vegas (prod Kolonko.), Roncalli Circo and THE HOLE ZERO .After that he presented to the International Circus Festival of Italy his new " umbrella act " with his new aerial apparatus designed by himself.
Book this artist