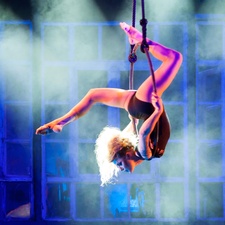 Bronwen Pattison
CIRCUS
Acrobat -
Actress -
Dancer-Actor -
Aerial Acrobat -
Multiple disciplines -
Circus acts
Book this artist
Biography
Bronwen discovered her passion for the performing arts at a young age, appearing regularly in musicals, theatre, film and television productions in her home country New Zealand. She also worked behind the scenes in the creative fields of Costume and Performance Design creating sets, costumes and props for the stage and screen.
Through her work in Physical Theatre, Bronwen Discovered a natural talent for extreme flexibility and was encouraged to further develop skills in Aerial Acrobatics and Contortion. She has never looked back!
Bronwen is currently based in Berlin, Germany where she studied Contemporary Circus and has been working throughout Europe and the World in Theatres, Galas, Varieties, Cruise Ships and Festivals with Aerial Acrobatics and Contortion.
Book this artist