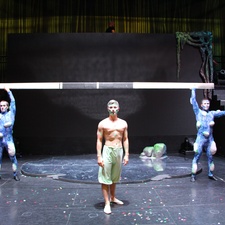 Trio Russian Bar
CIRCUS
Book this artist
Biography
"Thrilling. Breathtaking. A Russian Bar Act never leaves the audience cold. Add to this three talented handsome guys and the show is sure to amaze even the most sophisticated. The flyer Andrey performs highly dangerous tricks with ease and a smile. And it's not surprising taking into account his 12-year experience in aerial gymnastics. The porters Vadim and Alexander share responsibility for their teammate ensuring his safe landing and high flight, and all that at a very quick pace.
In 2015 their passion for circus brought the guys together, and since then they have travelled across Russia and Europe as part of MSC Cruises Entertainment Team, Sochi Park Entertainment Team, Daria Kostyuk Circus.
Of course, the Russian Bar is not the only act the trio can boast of: individual Cube Act and Cyr Wheel are what they have perfectly mastered as well."
Book this artist